Flower Subscriptions Made Easy
Subscribe today to Starbright Floral Design's weekly flower delivery in NYC to brighten your home or office
There's nothing like fresh flowers to create smiles and brighten any home or office. Our NYC Weekly Flowers / Subscription Flowers Program is as diverse in offerings as New York City's population.
We can custom curate your weekly flower delivery in NYC within your budget parameters and design style. Each week, we deliver a fresh flower arrangement to your home or office in NYC, designed to delight coworkers, friends, and neighbors.
Our NYC Weekly Flowers / Subscription Flower Program always ensures the greatest value   our NYC Weekly Flowers subscribers benefit from upgraded arrangements as part of their weekly delivery. This is no cookie cutter program: Our incredible team of designers are matched on a project-by-project basis, so they develop an understanding and rapport with each client to ensure that every setting is perfect and appropriately enhanced with flowers. We maintain a library of feedback from our clientele to guarantee a flower design that will appeal to the specific client's environment and taste.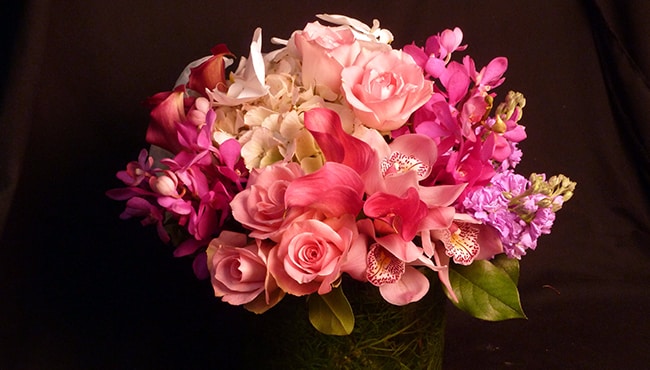 NYC Flower by Subscription Clients
From restaurants to hotels, corporate buildings and private residences, Starbright's floral arrangements deliver beauty across NYC wherever our flowers by subscription require! Our clients are some of the most discerning businesses in New York City and know that a first impression makes a lasting impression.
We appreciate that our clients enjoy the flexibility of not having long-term contracts, so we keep it simple. As long as you adore what we create and our personalized care, we will continue to visit you each week - and we hope for years to come!
Start Your NYC Flowers Subscription
To inquire about our NYC Flowers by Subscription Program weekly flower delivery service, please complete the inquiry form below, call us at 212.229.1610, or use our Live Chat to begin a conversation. Email us by clicking here.
Our team of flower concierges will be in touch to begin a conversation regarding your specific needs. We are looking forward to hearing from you and to transform your space into one abounding with beauty. In the meantime, please peruse our NYC Weekly Flowers Portfolio