Service to Those Whom Serve
A potential client once called Starbright Floral Design and asked if we were the only florists in Manhattan. When we assured him that we were not, he told us that wanting to have several florists to choose from, he called a few top hotels in New York City and asked for a florist recommendation. When all recommended Starbright, he was dazzled and needed to call us to find out more.
Hotels
Starbright is honored to be the preference of over 200 hotel concierges from New York City's most prestigious properties to fill their guests' requests for flowers. As a proud sponsor and member of the Hospitality and Sales Marketing Association International (HSMAI), our team at Starbright works to do everything we can to accommodate our partners in hospitality. Starbright has created multiple unique portals to serve every aspect of hospitality and NYC's hotels. We strive to give the same experience to our hotel clients that they give their guests.
Many public areas of chic hotels are decorated and kept in spectacular presentation by Starbright Floral Design. We have modeled our customer service standards after the approach of the most prestigious hotels. We strive to consistently exceed expectations and offer the highest level of attention while we raise the standards in traditional customer service.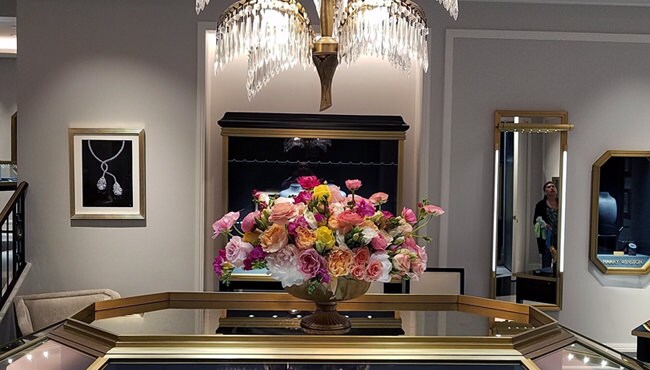 Restaurants
Dining in NYC restaurants is an experience unlike anywhere else in the world, and we understand the importance of creating an ambiance from the moment a guest enters your space. Work with our dedicated NYC hospitality team to choose flowers best fit for your restaurant and event spaces and offer our services to your guests celebrating special occasions at an exclusive rate. No occasion is too small or big – from a specialized bouquet at an anniversary dinner to a wedding celebration in your space.
To hoteliers and restauranteurs, our services include but aren't limited to the following:
Lobby Florals and Décor
Plant Leasing Care and Maintenance
Amenities and In-Room Dining
Flowers for Food and Beverage Departments
Catering Sales Packages for Event Spaces
Trade Shows in Larger Meeting Spaces
Concierge Desks and Host Stands
Guest Services and Special Occasions