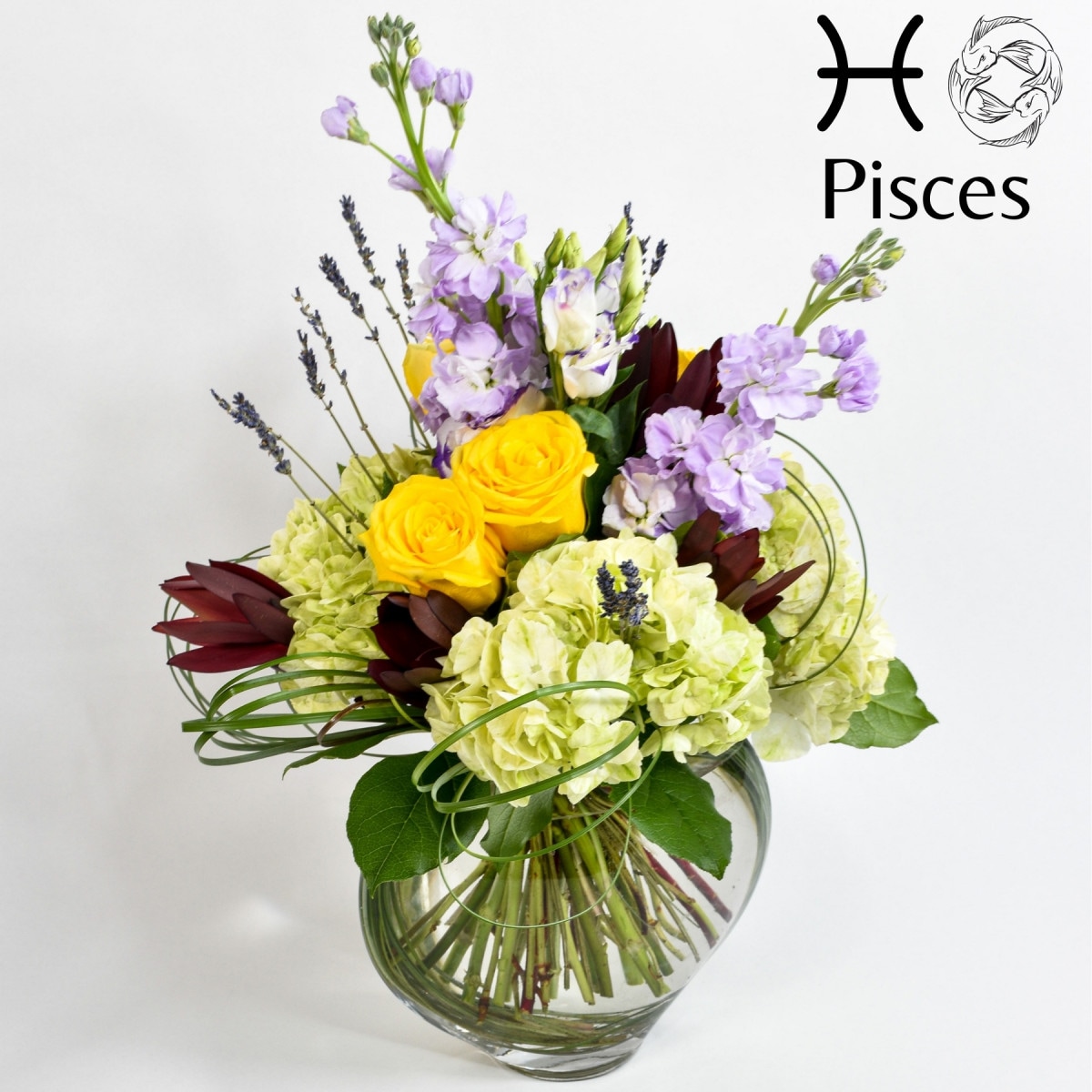 Astrology Series: Pisces Flowers
February 25, 2021
It is Pisces Season and we are celebrating with flowers! The dates February 19th - March 20th mark the twelfth, and last, sign of the Zodiac! Our Astrology Series has incapsulated the traits of 5 signs so far, and Pisces is undeniably one of the most creative!
Pisces are a water sign, which means that they are very emotionally intelligent. They always know when something is wrong, and strive to make everybody around them joyous! Give back to the Pisces in your life with the wonderful gift of flowers! The way to their heart is with random acts of kindness!
This design is filled with soft textures and dynamic movement to represent the emotional depth of the Pisces. We chose to leave the stems exposed in the vase, to highlight the water aspect of this arrangement. Green hydrangea and fluffy, lilac stock embody the Pisces' compassion and ability to empathize. Has the Pisces in your life ever been a shoulder to cry on? Let them know how much that meant to you!
Since Pisces are dreamers with vivid imaginations, they are guaranteed to love this mix of flowers that is truly like nothing else! Grass accents and touches of lavender create a complex look complimented by intriguing lemon roses. The contrast between the deep burgundies and light pastels are a delight to the eye! Deliveries are available in all 5 boroughs of NYC and beyond!
Each Astrology Series Design comes adorned with a charm. The Pisces token can easily be put on a necklace or keychain! This way, the Stargazer in your life will have a lasting memory of this unforgettable floral sensation. Birthdays are a time to celebrate, a time to elevate your emotions, and a chance to let others know how you feel about them! Take up this opportunity to express your deepest sentiments. Starbright Floral Design is dedicated to providing an above and beyond customer service experience for each and every one of our clients!
Shop Today: Pisces Flowers