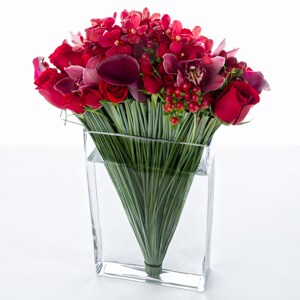 Flowers for Valentine's Day 2021
February 02, 2021
New York, when you need flowers, we are here to serve you 365 days of the year. We are beyond thrilled that the most important day of the year is quickly approaching, Valentine's Day! We are dedicated to bringing your emotions to life with our unparalleled customer service and high quality flowers. Our attention to detail, organization, and team work brings this holiday to life. This is The Starbright Experience!
Valentine's Day at a florist is a flurry of flowers: red roses, pink hydrangea, and chocolates galore! Delivery drivers are packing their trucks carefully, like Santa with his sleigh, and our designers are at the top of their game. Like true New Yorkers, we are fueled by coffee and bagels! Our flowers are the feel good elixir you need this Valentine's Day.
In order to best serve you, we have created a Valentine's Day Collection on our website with our favorite designs available for delivery in NYC. Bursting with Emotion is an upscale composition of premium flowers: calla lilies, orchids, red roses, and berries. Give Me Tomorrow is our modern rendition of red roses presented in a square vase. Cassiopeia is a tall vase of stunning Stargazer Lilies, sure to make your Valentine's heart melt!
We highly recommend choosing Designer's Choice to signify your love! It allows our designers to express themselves and create to their heart's desire. Give the gift of a one-of-a-kind Starbright original design when you give our floral experts the freedom to create their floral fantasies. This year we are offering two palettes: Jewel Tones or White and Pink. Show your passion with the gift of flowers!
We are here for you, and we pride ourselves on being your go-to florist. It means the world to us that you trust to help you elevate your emotions. In return we provide you with above-and-beyond customer service. Have a happy Valentine's Day and enjoy the day of love! This world can always use more love!