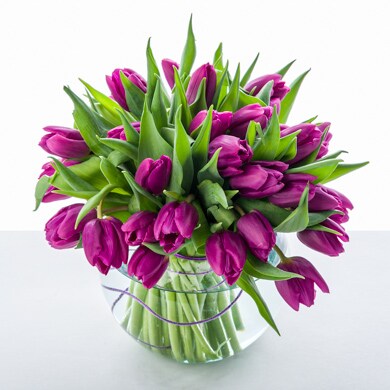 Tulip Flowers from Holland to NYC
January 12, 2021
The flowers we bring to Starbright Floral Design in NYC, come from all over the world. Starbright Floral Design's tulips come from Holland. Considered a national treasure, tulips are also commonly known as a symbol of new beginnings. Believe it or not, tulips are so coveted in their homeland, that they collapsed the Dutch Economy in 1637! You think we are over-exaggerating? Lookup "Tulip Mania" right now!
When you visit a farm in Holland, you will find fields striped with every color of the rainbow: bright pinks, yellows, oranges, and whites. Known for incredible genetic variability, tulips create an array of colors unlike any other flower! Have you ever heard of a tulip "breaking"? It is not your traditional broken... "breaking" is when the flower head develops a stripe, and it is actually due to a virus! Don't worry, nothing contagious here.
In order to meet the extreme demand for tulips all around the world, the tulip farms in Holland actually have plane runways in the middle of the fields! It is a beautiful flower factory, or he best scented assembly line in the world. The flowers are cut, immediately tucked away neatly in boxes, put on a conveyor belt, and loaded onto the plane. The cargo plane moves slowly along the runway, and by the time it moves from one end to the other, the plane is filled with the most beautiful blooms in the world and ready for takeoff!
The best time to visit the Dutch tulip fields is in the Spring when Tulip Season is in full bloom! That is when you'll get the best selfie! There are two types of farms in The Netherlands. One grows the cut flowers for sale, and the other type grows bulbs for gardeners near and far. Not every farm is open to the public, so be sure to do your research before you book your plane ticket!
No time to go to Holland? That is why we have got fresh tulips available for delivery throughout the entirety of NYC. New York we've got fresh flowers for you! Visit us online and see our section dedicated exclusively to Dutch Tulips. They are the best!