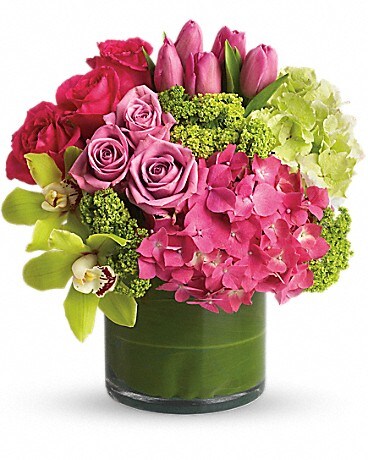 New Sensations, our Favorite Flowers!
January 07, 2021
"Upscale and uptown. This fantastic arrangement of flowers is a beauty and a half to behold. Overflowing with gorgeous blossoms and flowers delivered in a leaf-lined cylinder vase, it's truly a floral fantasy."
Flowers Galore! Our New Sensations floral composition has earned the title of All-Time Best Seller, here in New York City. She's upscale and uptown, a beauty and a half to behold! So, what is it that makes this composition stand out among the rest?
The first thing that catches my eye is the color palette. Pink and Green; there's something so fresh! I'm getting watermelon vibes, I'm seeing Lily Pulitzer, palm trees and flamingos, pink lemonade and mint mojitos, the list goes on! These flowers are a refreshing sight to see in the midst of winter in NYC!
The low and lush style vase is a modern offering compared to the tall and showy flower arrangements of yesteryear. Tres Chic, you have to agree that these flowers are very Upper East Side. Versatility is key here, New Sensations is the perfect size for a kitchen table, coffee table, or entryway. These flowers bring color and good vibrations into any New York City living space.
Onto the floral ingredients, a recipe for sucess. Roses, duh. Hydrangea, yes please! Tulips are a crowd-pleaser. Why? The classic shape of the tulips and the fact that they keep growing day after day adds a little flower magic! And last, but certainly not least, I would venture to say that the green cymbidium orchid is Starbright's signature flower, for good reason! It is a premium flower that evokes elegance and a little extra flare.
When designing, there IS such a thing as too much! And New Sensations is just enough. A simple shape, a bright and cheery palette, and the highest quality blooms available for delivery in New York City. We don't get tired of creating this design for you, so she is here to stay! Manhattan, thank you for loving flowers as much as we do!